First cruise of the season
Last weekend we went on our first cruise of the year, over to our mooring at Port Jefferson, Long Island, New York. It's about 13 miles South by Southwest from Milford Harbor, and with good conditions it usually takes anywhere from 2 to 4 hours to cross the Sound.
(Click to enlarge map)


The weather was absolutely PERFECT, with 6-12 kts of 75-80 degree breezes and sunny skies.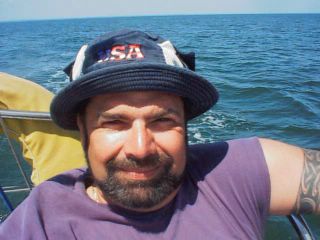 Here I am, mid-journey. Yes, I know it's a goofy hat. I don't care, I like it.




Joyce is steering us into the channel at Port Jeff.




Here's a good reason to go to Port Jeff.




Here's another.




Here's a good reason to use suntan lotion. Stick a fork in me...I'm done!
(OK, so I computer enhanced the sunburn in this picture...it still hurt!)