Wha' happened?!?
What happened to all the nice, balmy, summer-like weather?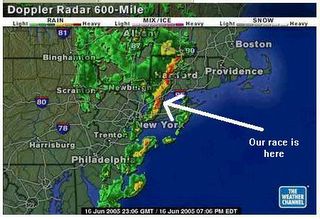 It turned into this cold, windy, rainy shit!
This is the weather we had right after the start of the race. I know, because we decided not to race once the wind hit 28 kts. and the waves turned into four-foot speed bumps. Crew included Tim (he wanted to race in spite of the weather), Lori, me and Joyce.
Joyce is steering because tonight is supposed to be the Woman At The Helm race. But the weather turned crappy, with lightning on the horizon and visibility dropping to about 1/2 mile.
We're motoring back to the harbor, and we'll live to race another day. We took a look out at the gulf on the way home, and there were still about four boats out there racing. But the lightning was getting closer, and I hope they got out of there before it really turned nasty.
Hey, it can't ALL be warm breezes and sunshine.