Moonlight Cruise to PJ
Last weekend was our sailing club's "Moonlight Cruise to Port Jefferson", the annual nighttime crossing for a weekend-long cruise[ along with the "Summer Sailstice" event, celebrating the beginning of Summer. This year we didn't have much in the way of participation, but that didn't stop us from having fun.
We left earlier than usual, since nobody else was going over Friday night. We made nearly the entire trip in daylight, and witnessed some spectacular sunset images. (Click on the pictures below to see a larger version)
Already at the mooring were Mike and Britta with their dog Napper on "Sea Hound". We rafted up and spent a few hours chatting and drinking wine under a moonlit sky.
Saturday was a beautiful day. We took the dinghy to the beach and spent a few hours beachcombing. Back on the boat we had lunch, then Mike and Britta had to leave to be home by early evening.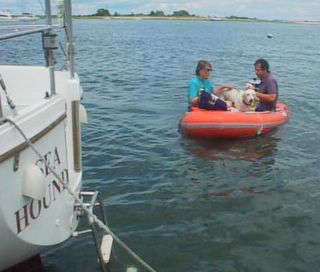 Later in the day Pete and Teri showed up with their boat "Wild Eyes" after completing a cross-Sound race from Branford. We rafted up and then joined the rest of the Branford Yacht Club racers on the beach for a party.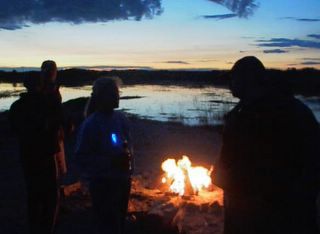 That night the wind started howling after midnight, so it was a little difficult to sleep. At dawn, somehow a huge bunch of trees, with 5-inch thick branches and leaves, had gotten fouled in our mooring lines and on our keels. So Teri and I took the dinghy and with the help of Joyce and Pete we wrangled the trees loose and towed them into shore (to prevent them from fouling other boats down-current of us). We both got splashed in the chilly waters, but we managed to free our boats.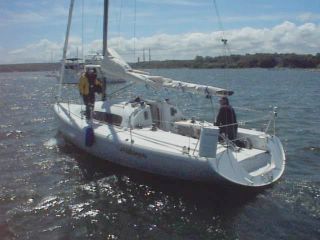 Around 11AM Pete and Teri left in the brisk NE winds. We followed around noon, and after a good start the winds lightened up to the point that we were down to 2 knots the last couple hours. We got back home around 5PM, sun-soaked and tired. That night I slept for TEN hours; something I can't recall doing in years. Good trip. Happy Summer Solstice!
P.S. - Separated At Birth?