Port Jeff R&R
Last weekend was the annual
Port Jefferson Race and Rendezvous
, and the weather couldn't possibly be better (unless it was raining beer or money or something cool like that).
This is gonna be a LONG post!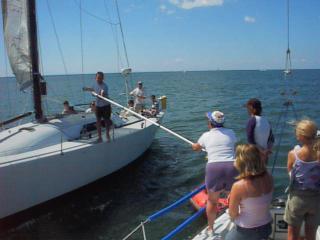 We were race committee for the start. Here Lori hands race instructions to a competitor on a fast-looking boat. We had a nice 12-15 knot breeze out of the NW at the beginning of the race. Frickin' PERFECT!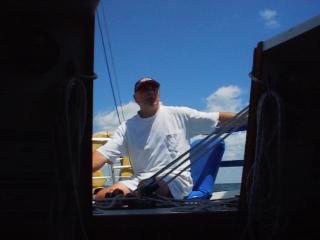 We got all 32 boats off smoothly, then we put up the sails for a nice cruise over. Tim helms the boat on a downwind run.
We're a lot more relaxed not racing; here Lori sacks out on the starboard rail.
"Straight Up" tows "Bedpan". Fortunately we were nearby to help out when the Bedpan got filled up. With water. Only. I know, it's an unfortunate name for a boat.
The party got rolling on time. Here's some poorly lit party pictures (I'm sorry about the quality...I happened to NOT be poorly lit, so to speak; blame the McSorley's Ale for that!)
Pete chats with someone.
Chad and Sarah show off their leis. Everyone got "lei-d" that night.
Joyce isn't drunk yet. But she's getting there.
The next morning, the crews of "Wild Eyes" and "Sea Hound" enjoy their morning coffee while the sun cranks up its heat output about a billion percent. Yeah, it was warm on Sunday.
We nipped the palm trees for a boat decoration. Don't worry, we'll get them back to the club eventually.
Joyce enjoys a boiling solar shower after a cooling swim.
Chad's girlfriend Sarah tries to find shade under our makeshift bimini.
Heading home while motor sailing, we stopped about halfway home and took a swim to cool off. Imagine our surprise when we dove in and found the water temperature was easily 10 degrees cooler than the balmy PJ harbor waters. Screaming ensued. It sure was refreshing though; especially once we defrosted our bits and pieces.
Lori clowns around with Tim.
The requisite self-portrait of the skipper with his cigar.
Safely back in Milford, sun-drenched but happy. Great job by the Windjammers officers and all the volunteers who helped, and congrats go to John and Celeste on "Witchcraft" for winning the race!
Some things we learned this weekend...
...according to Lori, the boiling point of water for making coffee is 260 degrees.
...Chad managed to go through 2 bottles of suntan lotion while applying it to his girlfriend.
...the Bedpan has a future career as a U-boat.
...Tim managed to wake everyone sleeping within a 200-yard radius with his snoring.
...Joyce won't need to buy Twizzlers for at least a year.
...and finally...
...while discussing Teri possibly going overboard, we learned that the MOB button on Pete's GPS stands for "Missing One Bitch".